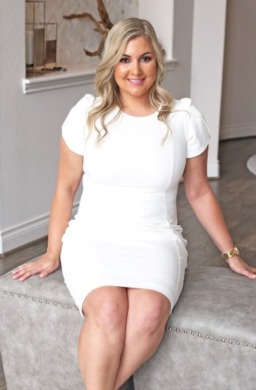 Christi Thompson is a Buyers and Listing Agent with Compass RE, Texas. As a buyers and listing agent Christi knows that purchasing a home is one of the most important decisions you will make in your life. A good realtor will remove all of the stress from the process and make sure your needs are met every step of the way. When working with Christi one of the many things you can always count on is quality service by someone you can trust.

As a full-time Realtor, Christi provides the highest quality of service by connecting with her clients to understand what they are looking for in a new home or how to feature their home in a way that sets it apart from the rest of the market! Her years of full-time experience have given her a clear understanding of the mindset of home buyers and sellers and a thorough understanding of the Houston marketplace.
Testimonials
Christi Thompson was our real estate agent while we were looking for our dream house. Since it was a big decision and purchase for us, we looked at numerous houses with her. She was very patient with us and not pushy at all. She is very calm and has a great personality. She is also very much responsive to phone calls and e-mails. She objectively shared her professional opinion with us by letting us know the good and bad things that she observed in the houses we saw. She promptly provided any information we requested and let us use the facilities at her office when we needed. After looking for a house for four months, we put our first offer on a house that we liked a lot and considered as a candidate to be our dream house. Though there were multiple offers on the house, our offer was accepted because of her reputation as a top producer and her strong negotiation skills. She was very patient, helpful, responsive and informative during the closing process as well. We had multiple closings with different agents until now, but she has been the best agent we have worked with so far. She is very professional, knowledgeable and a top producer. We would highly recommend her to anybody who is planning to buy or sell a house.
Cagatay Tokgoz
Working with Christi was wonderful. She kept my mind at ease and helped make the entire home buying and selling process so easy and hassle free. I was blown away by her wealth of knowledge, her enthusiasm and patience, her professionalism, and her desire to go above and beyond repeatedly. Everyone should have a realtor who cares about them as much as Christi cares for her clients. By the end of the whole process, not only did I have a realtor for life, I felt like I had a friend for life, too!
Silky Malik
I can't say enough amazing things about Christi! We were moving from New York and she made the process so easy. After spending a weekend in Houston we trusted her enough to look at houses for us and ended up buying our dream home without seeing it in person first! She was willing to make videos for us and answered any questions we had so quickly. How she pulled off getting us into a house that had everything I wanted in this crazy market I have no idea, but she is amazing!
Jay Briggs
I was extremely pleased with Christi Thompson. Christi and her team displayed impressive teamwork throughout the entire process of listing and selling my home in the Katy area. Christi's advice was invaluable in selling my house in 3 days. Thank you for making the selling process flawless and enjoyable. If you are looking to buy or sell a home in the Katy or Houston area, don't hesitate to contact Christi Thompson.
Julio Rodriguez
Realtors are a bit intimidating to me bc they seem a bit uptight in their business cards picture. But Christi was so down to earth and extremely patient with me! We looked at 8 different houses and went back to 2 and she was always welcoming and smiling. She was never rude. She explained to me that she understood that I was looking for a home not just a house, when she said that we knew we had the right person to help us find our home. We closed 11/20/19 and extremely happy with our new home.
Sandy Beta
More Testimonials